Stage set for World Cup quarters
Comments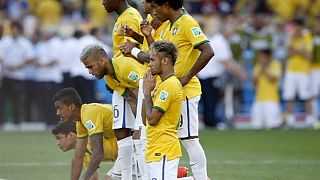 It's crunch time in Brazil as eight nations start to battle it out in the hunt for the all-important four spots of the World Cup semi finals.
It all begins on Friday when France take on Germany at the iconic Maracana and hosts Brazil lock horns with fellow South Americans Colombia in Fortaleza.
At least one nation will represent Europe in the semi-finals as France take on Germany.
Mamadou Sakho has recovered from a hamstring problem but may not start for France after an impressive performance by Laurent Koscielny against Nigeria last time out.
Defender Raphael Varane remains a doubt after spending Monday night in hospital with dehydration.
Revenge is in the air for the French who have lost their last two World Cup fixtures against Germany in 1982 and 86, both in the semis.
Familiar territory
Joachim Loew has his own injury concerns as Shkodran Mustafi will miss the rest of the tournament with a hamstring tear.
Mats Hummels should step in after recovering from flu.
Christoph Kramer has also recovered from a light fever and should be available as is Lukas Podolski who is back after a thigh strain.
Germany are playing their ninth straight quarter-final and are looking to reach the semis for a fourth consecutive edition.
Host with the most?
The hopes of some 200 million Brazilians will weigh heavily on the shoulders of their national team who play Colombia for a place in the semis.
Despite suffering knee and thigh problems during the emotional win over Chile the country's darling Neymar is fit to play in the tie in Fortaleza.
Coach Luiz Felipe Scolari will be without suspended midfielder Luiz Gustavo while Tottenham Hotspur's Paulinho is a probable replacement.
Colombia ready to ruin Brazilian party
Colombia now have the possibility to play the role of party poopers.
Star striker and the tournament's leading goal scorer James Rodriguez and his teammates will relish the chance of eliminating the hosts.
Coach José Pékerman has no fresh injury or suspension concerns and is expected to field the same team that beat Uruguay in the Round of 16.
It's a match that pits the tournaments two star men Rodriguez and Neymar against each other with both hoping to fire their nation into the last four.
Blood, sweat and too many tears
Brazil coach Scolari has urgently called upon a psychologist, Regina Brandao, who has been tasked with the job of restoring confidence in his team after they suffered a mental and tearful meltdown before the penalty shootout win over Chile in the last 16.
Such is the growing weight of expectation on Brazil's national football team, Scolari has been forced to take psychological measures.
Just before their penalty shoot-out some of the Selecao, including poster boy Neymar, were in tears appearing to crack under the pressure.
Goalkeeper Júlio César, defender David Luiz and captain Thiago Silva were also crying. Silva was so overcome he stepped down from taking a penalty.
This mass outbreak of tears has prompted several former Brazil players to demand that the current squad pull themselves together or risk leaving their own World Cup empty handed.
After an emergency team session earlier in the week all appeared back to normal on the training pitch with the only screams and crying coming from the players' young admirers.
We might be wrong
The Euronews sports team has so far failed to live up to the high standards set by 2010 World Cup animal oracle Paul the Octopus. You just have to look our predictions for the first two rounds to figure that one out.
But we won't let that stop us so here's our predictions for Friday's games.
You can participate with your own predictions and comments on the social networks using # TheCornerScores.
Although this one was far from unanimous, we eventually settled on a 2-1 victory for the 1998 champions France while on the other side of the quarter-final draw we predict Colombia will upset the host nation and beat Brazil by the same scoreline.
Heroes welcome for Fennec Foxes
The Algeria team returned home on Wednesday in Algiers to a heroes welcome after the nations best ever World Cup showing.
Thousands of fans crammed the streets for the big home coming and to catch a glimpse of their heroes.
Judging by the scenes coming out of the country one could be forgiven for thinking Algeria had just won the World Cup.
Algeria reached their first Round of 16 and despite losing to Germany it was a deserved welcome home for the Fennec Foxes.