World Cup mania reaches fever pitch in the USA
Comments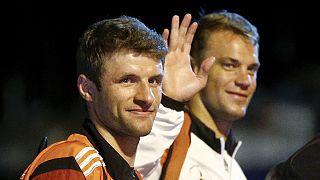 Welcome to The Corner World Cup special.
There is widespread agreement that this tournament has been one of the best in terms of football quality.
The group phase was gripping and the knockout games have been end-to-end entertainment with top drawer drama.
Baseball, Basketball and US football have long enjoyed and profited from having the entire sports playing field to themselves.
But soccer, as the beautiful game is known as across the pond, is making its presence increasing felt.
Now Major League Soccer, the sport's governing body, is hoping the huge crowds that have turned out wont diminish and disappear beyond next season along with the massive tide of patriotic pride that's been on display.
The Americans are now established as a top-20 force in the world game.
It seems the public's appetite has been firmly wetted which could see new talent emerge to take them into the top ten and beyond.
A record television audience of near 20-million people across America are thought to have watched each USA match.
It is a figure which goes a long way to explaining why Major League Soccer bosses are rubbing their hands in delight.
Soccer in US used to be a minority sport, popular with Hispanics and mostly played at school level by girls. But after many years of flirting with the game, it's now firmly part of the landscape with a surge of children making it their first choice sport.
Even President Barack Obama joined in the nationwide cheer for Team USA as one of the tournament's supposed underdogs surprised many with its bite.
Now former Brazil playmaker Kaka has become the latest star to decide to ply his trade stateside.
He has signed for Orlando City after terminating his contract with AC Milan by mutual consent. He will initially move on loan to Brazilian side Sao Paulo where he spent the first two years of his career before being sold to Milan in 2003.
PENALTIES
There can little doubt all players prefer to get a result over ninety minutes rather than let games be decided on penalties.
The decisive shoot-out may delight the impartial and some fans but it fills many with dread.
But now a British scientist claims to have come up with a near perfect strategy for success.
Dr Ken Bray of the University of Bath says if footballers listen to him they can make the pain of penalty shoot-outs a thing of the past.
His claims practice and preparation prevent poor performance, along with some other key ingredients
"What we've done in our research at Bath is to define what we call the goalie's 'diving envelope'. It's about the maximum reach he can make diving in any direction to make a fingertip save. If you can place the ball outside of his diving envelope you should be successful almost 100 percent of the time," said Bray.
Practicing in real life situations perhaps remains the most difficult matter blocking the goal as the stress of the occasion can turn even the most experienced of players into a bag of nerves.
But Bray says keeping your cool is crucial to convert your chance.