World Cup 2014: Belgium and Argentina secure World Cup quarter-final spot
Comments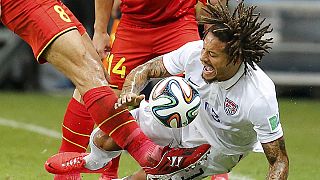 Argentina huffed, puffed and suffered against the Swiss, but a late late goal saw them through to the last eight, where they will face Belgium.
Angel Di Maria scored the all important goal with just two minutes of extra time remaining. It came after the two teams played out a largely dull draw with little drama. There were very few clear cut chances with both sides defences working overtime.
Red Devils dazzle the Americans
The Red Devils also left it late to book their place at the expense of the United States in a thrilling match that could have swung either way but ended 2-1 in favour of the Belgians.
Chelsea's Kevin De Bruyne struck first with a sublime finish after a slick one two with his domestic team-mate Romulu Lukaku who had only just come on.
The same pair doubled up again 12 minutes later, this time Lukaku with the superb strike to give the Red Devils a 2-nil lead.
Julian Green drew one back which meant a pulsating finish as the US tried to go for an equaliser but they just did not have enough to really trouble the Belgians and force penalties.
Inglorious
Cameroon's football federation has begun an investigation into claims that seven players were involved in match-fixing at the World Cup.
The allegations centre on the Indomitable Lions 4-0 defeat by Croatia when Alex Song was sent off in the first half.
The claims against Cameroon come from convicted fraudstar Wilson Raj Perumal, who had accurately forecast the result and the fact that a player would be sent off during a discussion with German magazine Der Spiegel.
Earlier the presidents of Cameroon and Ghana had ordered official enquiries into the strife-riven performances of their respective teams at the World Cup where their campaigns were overshadowed by controversy over money and discipline.
Cameroon President Paul Biya asked his government to submit a report within one month into "the causes of the inglorious campaign of our Indomitable Lions at the 2014 World Cup football". A campaign overshadowed by rows over money and ill-discipline.
We might be wrong
As a team composed entirely of self-proclaimed experts in every field, our sports panel has performed particularly poorly with its World Cup predictions.
Out of 56 matches played, we have only managed to correctly call the outcome of four matches – a pathetic performance by anyone's standards.
Euronews sports team hangs its head in shame!
Sex in the city of… balls
Sex, drugs and football go together like Brazil and Samba, which is why authorities have launched a bid to kick aids out of the beautiful game.
To help them raise awareness of HIV and other sexually transmitted infections, a group of volunteers were on hand to give out more than 100,000 condoms.
The move is part of the United Nations "Protect the Goal" programme that started at the 2010 World Cup in South Africa.
One father, Nilton Cesar, said it was important that everyone be aware of how to protect themselves adding that he has taught his 10-year-old son prevention methods from a young age.
"I tell (my son) about prevention. He is only 10; since he was little I've been teaching him the importance of prevention," Cesar said.
More free condoms are expected to be handed out until the festivities climax with the World Cup final.