France: club chief's controversial words as female coach Costa quits
Comments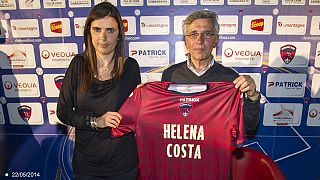 Just six weeks ago France's Clermont 63 looked to be among Europe's most progressive football clubs when it appointed a woman as its new head coach.
Portugal's Helen Costa was set to become football's highest-profile female manager.
But now, after her resignation, Clermont's progressive tag has been brought into question , after comments by club president Claude Michy.
Michy, discussing Costa's departure at a press conference, said: "It's a woman …. she can do to men certain things."
He added: "Like I said to the players it's not the first time that a man is abandoned by a woman."
"What's surprising is we did not have a rational explanation. They were futile reasons. There is nothing serious. She left with her secret. "
Costa said she quit before her first day at the Ligue 2 club for 'personal reasons'.
In a reference to the Chelsea boss, Costa has often been dubbed "Mourinho in petticoats" by players who have worked with her.
Portuguese media reports suggest Costa may have left Clermont because she was excluded from preparations for the football season.