Legendary Hungarian goalkeeper, Gyula Grosics dies
Comments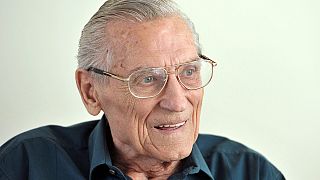 Gyula Grosics, Hungarian football`s legendary goalkeeper died on 13 June at the age of 88.
He played 86 times for the Hungarian national football team and was part of the legendary Golden Team of the 1950s. He was playing with the 'Magical Magyars', when they won against England 6-3 on 25 November 1953 in the Wembley.
His nickname was "Black Panther" or Fekete Párduc in Hungarian.
He was born on 4 February 1926.
Credited with developing the "sweeper-keeper" style of play, whereby the goalkeeper can act as an extra defender when needed. He was a participant at three consecutive World Cups, the 1954 FIFA World Cup, the 1958 FIFA World Cup and the 1962 FIFA World Cup, and was selected as goalkeeper for the 1954 World Cup's All Star Team after winning the silver medal with Hungary. In his club career, he played for Hungarian clubs MATEOSZ, Budapest Honvéd FC and Tatabányai Bányász, where he retired in 1962.
In 2008 he was given the opportunity to play for his favourite club, Ferencvárosi Torna Club 46 years after the Communist regime refused to allow him to sign for them. The 82-year-old Grosics performed the kick-off for Ferencváros in a friendly match against Sheffield United and stood in goal for a few minutes before being substituted.