D-Day 70th anniversary as it happened
Comments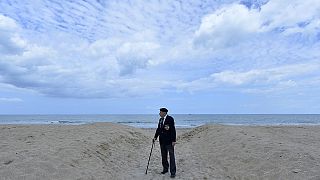 Some 900 of the last surviving veterans of World War II have joined 20 world leaders in northern France to mark the 70th anniversary of the D-Day landings.
A series of commemorative events took place across Normandy to honour the thousands of people that lost their lives in what proved to be the beginning of the end of the world's bloodiest ever conflict.
The day's solemn proceedings were attended by thousands of visitors, including Britain's Queen Elizabeth II, US President Barack Obama and Russian President Vladimir Putin, who set aside diplomatic tensions to take part in the remembrance.
From Juno, Gold, Sword, Utah and Omaha beaches, follow euronews' live blog below for our online coverage of events from the coast of Normandy. You can watch our live televised coverage of the international ceremony in the Youtube player at the bottom of this page.