Watch: Duo film their escape as terrifying twister hits caravan park
Comments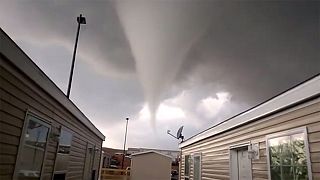 This is the amateur footage from two men who had a narrow escape when a tornado ripped through their caravan park.
The twister, which struck in North Dakota, in the upper mid-west region of the United States, injured nine people, one critically.
The duo – who flit between laughter and profanity during the near three-minute clip – film the tornado approaching. When they see it is heading directly to their caravan park they flee in a 4×4, but continue to film.
Video: Duo at centre of twister (warning: contains swearing)
Video: Amateur twister footage from afar
The tornado destroyed at least eight caravans, according to an official quoted by NBC News.
It happened about five miles south of Watford City at an oil workers' encampment.
North Dakota is not historically considered part of Tornado Alley, a central belt of the US where twisters occur most frequently. Its core is thought to be northern Texas, Oklahoma, Kansas and Nebraska.
For more videos subscribe to euronews' YouTube channel.