Mother nurture: the impact of maternal influence on children's education
Comments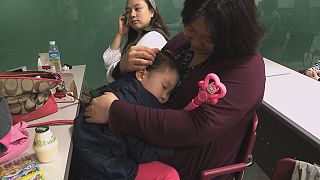 A recent study concludes that maternal influence can be a big factor in how long a child stays in education. In this edition of Learning World we explore the impact mothers have on their children's schooling, from conception to adulthood. We have three reports from around the world, presented by Maha Barada.
Our fist story looks at a traditional ante-natal class in South Korea. The art of Taegyo draws on ancient oriental practices and beliefs and is growing in popularity within the country and abroad.
Humaira Bachal's work providing education for the children in her village is well-known across Pakistan, but she also had to fight to go to school. In our second report we reveal how her mother defied hostility and violence to ensure her daughter got the schooling she deserved.
Is it ever too late to go back to school? Spanish journalist Carmen Delgado proved that it is not. She decided to study journalism at the age of 77 and earned her degree five years later. We tell her inspirational story in our final report.
If you have any thoughts on these reports or have similar stories to share let us know on our social media pages.