Eurovision: Conchita mania across Europe
Comments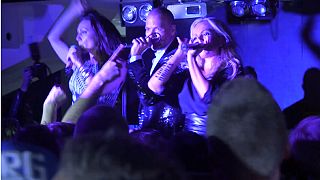 After 25-year-old Austrian drag singer Conchita Wurst became a Eurovision diva, parties were organised by Denmark's tourist organisation 'Visit Denmark' to celebrate this exceptional Austrian triumph.
In Hamburg's famous red light district, the 'Reeperbahn', over 10,000 people gathered together despite the rain to celebrate the winner who caused a stir in some countries.
Of course the success of the woman whose real name is Thomas Neuwirth was also an important signal for all members of the LGBT community and all those who defend the rights of lesbian, gay, bisexual and transgender people.
An audience of around 170 million across the globe watched the Austrian triumph when she was awarded 290 points for her performance of her song "Rise Like a Phoenix".
For drag queen Admira Thunderpussy it was definitely the best song that won and for her, Conchita represents all queens around the world. Admira just loves her and certainly her beard.
Also in London superclub "Heaven" people lined up to join the party. Exuberance was to be found on dance floors all over the place. In Stockholm's most popular club the "Wonk", men were paying tribute to the new Eurovision star, dressed up as Pipi Longstockings.
In her speech after receiving the award, Conchita Wurst said that her victory was possible with the support of all those who believe in a world without prejudice and intolerance.
Seasoned partygoer Ras Andrea shares this opinion and for him the performance and victory of Conchita was certainly also an important political message in the context of the ongoing situation across Europe.
All-night parties were also held in Milan, Paris, Oslo, Washington and Sydney.
Links (in German): – The beard conquers women's faces, the internet celebrates the victory of Conchita. – Ms Wurst gets emotional in her speech.