Game of Thrones' George R.R. Martin unveils cover of new book
Comments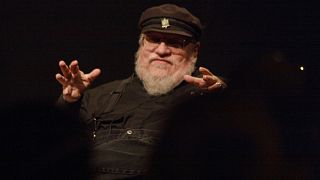 Famed author George RR Martin has unveiled on his blog the final cover of his new book set in the 'A Song of Ice and Fire' (ASOIAF) universe.
Titled 'The World of Ice & Fire', it is, according to Martin, "a gorgeous book, a big coffee table volume with lots and lots of stunning artwork, and tons of fake history".
'A Song of Ice and Fire' is Martin's epic fantasy saga, spanning thousands of pages, which captured the imagination of millions and inspired the HBO hit show 'Game of Thrones'.
Co-authored with Elio M García, Jr., and Linda Antonsson, founders of authoritative fan site Westeros.org, the release of 'The World of Ice & Fire' is scheduled for October 28, 2014.
The book should be about 330 pages long, according to Garcia, with "lots of new information, about the ancient history of the world, about the various regions, about the Targaryens and the Lannisters, and even about the strange, far-off places of Essos, from the Free Cities to Asshai and the Summer Isles".
Disgruntled fans, who often refer to themselves as GRRuMblers, will be unhappy the new book cover is not for 'The Winds of Winter', Martin's hotly-anticipated sixth opus.
Many fans have criticised Martin in the past for getting sidetracked by other projects, such as novellas, instead of focusing on the completion of the saga. Their frustration stems from a perceived delay in the publishing of the books.
While the first three books were published between 1996 and 2000, his fourth book 'A Feast for Crows' was published in 2005 and 'A Dance with Dragons', the fifth and most recent book, was released six years later in 2011.
Other fans still avidly read any new material on the history and lore of the world of Westeros and Essos.
Credit photo CC BY Flickr/the_eggwhite