Boy, 16, survives at -62°c during five-hour flight in wheel well of plane
Comments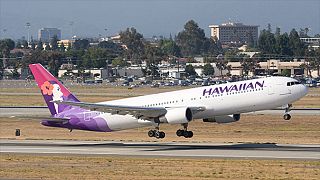 A teenager is lucky to be alive after miraculously surviving a five-hour flight in the wheel well of an aeroplane.
The boy, 16, was seen by airline personnel when the flight landed in Maui, Hawaii, travelling from San Jose, California.
The youngster, who had run away from home, survived at an altitude of 38,000 feet (11,582m) with temperatures plunging to as low as —62°c, according to the FBI.
He lost consciousness quickly as the mercury fell. It took him an hour to come round after landing in Maui, where he was spotted by ground crew after emerging onto the tarmac.
"It's just an apparent miracle," said FBI special agent Tom Simon. "There was no appearance of any special gear of any sort."
The stowaway told FBI officials that he had run away from home, climbed a fence at the airport in San Jose, California, crossed the tarmac and crawled into the wheel well of Hawaiian Airlines flight 45.
"His story checked out," and no federal charges were filed, said Simon, of the FBI's Honolulu office.
The boy was turned over to local child protection officials, and a medical examination showed he appeared to have been unharmed by the ordeal.
The flying time from San Jose to Hawaii was more than five hours.
"Our primary concern now is for the well-being of the boy, who is exceptionally lucky to have survived," Hawaiian Airlines said in a statement, adding it and its contractors in San Jose were "ready to assist various government agencies in their investigation of this incident."