Macky Sall: 'Senegal is an island of stability in a problematic region'
Comments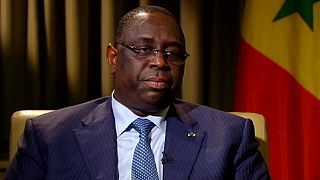 Macky Sall became president of Senegal in 2012 after a rapid political ascent.
The married father of three was practically unknown when President Abdoulaye Wade made him Minister of Mines, Energy and Water in 2001. Sall then became Prime Minister in 2004 and held the post until 2007.
Relations with Wade soured however. In 2008, Sall entered into open conflict with the head of state and left the Senegalese Democratic Party (PDS). He went on to form the Alliance for the Republic, a liberal party, which became the main opposition. In 2012 Sall won against his former mentor.
The 53-year-old, who trained as an engineer-geologist in Senegal and France, embodies a new generation of Senegalese politicians.
Macky Sall spoke to euronews in-depth in the 'Global Conversation' and you can watch the video of that interview.