Former Italian PM Berlusconi ordered to do community service
Comments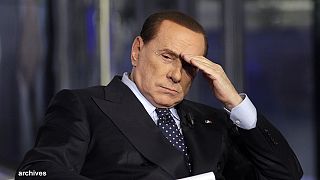 An Italian court has ruled that former Italian Prime Minister Silvio Berlusconi must visit a center for the elderly at least once a week as he serves a one-year sentence for tax fraud by doing community service.
In a statement on Tuesday, the court also set travel restrictions for Berlusconi.
The court said the prominent 77-year-old centre-right politician will not be allowed to travel outside the Lombardy region where he has his principal residence except for trips to Rome from Tuesdays to Thursdays.
It was not immediately clear from the court ruling if Berlusconi would be able to campaign for his Forza Italia party ahead of European Parliament elections next month.
His lawyers said in a statement that the ruling "appears balanced and satisfactory even with regards to the needs of political activity".
They, like Milan prosecutors, had argued in favour of his doing community service rather than being sent to prison or put under house arrest.
A legal source said the media tycoon would do his community service at the Sacred Family Foundation in Cesano Boscone, a small town near Milan. Its website says the centre cares for the elderly and people with disabilities.
Berlusconi's four-year jail sentence was commuted to one year under a law aimed at reducing prison overcrowding.
He continues to protest his innocence and says he has been persecuted by leftist magistrates.
with Reuters