McDonald's pull out of Crimea prompts calls for fast food chain to leave Russia
Comments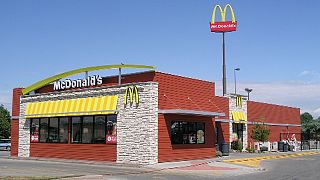 Chasms between Washington and Moscow look set to deepen after an MP called on fast food giant McDonald's to leave Russia.
Outspoken Vladimir Zhirinovsky, dubbed a showman of Russian politics, made the call after the US chain announced it would be closing its outlets in Crimea.
McDonald's, without mentioning the unrest in Crimea, said it was temporarily closing three restaurants in Simferopol, Sevastopol and Yalta due to "operational reasons beyond our control".
It reportedly prompted Zhirinovsky, founder of the Liberal and Democratic Party of Russia (LDPR), to say: "McDonald's has closed its restaurants in the Crimea – this is very good. Now it needs to close all restaurants in Russia. I ordered the teams of municipal organisations of LDPR to put pickets in front of all McDonald's restaurants in Moscow and across the country. They should get out of the country … as soon as possible.
He added: "We will close them across the country and then proceed to Pepsi."
Crimea's annexation by Russia, which Ukraine and the West do not acknowledge, has worried companies with assets in the Black Sea peninsula as it is unclear how the change may impact their business.
McDonald's decision to leave the region is likely to be seen as emblematic of the rift in Western-Russian relations, now at their lowest ebb since the end of the Cold War.
"Due to operational reasons beyond our control, McDonald's has taken the decision to temporarily close our three restaurants in Simferopol, Sevastopol and Yalta," a spokeswoman said.
The Crimean outlets are not franchises, but owned and operated by McDonald's itself.
The closures follow Geneva-based Universal Postal Deutsche Post's announcement that it was no longer accepting letters bound for Crimea as delivery to the region was no longer guaranteed.
Economic relations between Russia and Ukraine have worsened since Russia annexed Crimea last month in response to the ousting of Russian-backed president Viktor Yanukovich after months of street protests in Kiev.
Russia raised the price it charges Ukraine for gas on Thursday for the second time this week, almost doubling it in three days and piling pressure on its neighbour as it teeters on the brink of bankruptcy.
Moscow has frequently used energy as a political weapon in dealing with its neighbours, and European customers are now concerned Russia might again cut off deliveries.
Good job, McDonalds</a>, for taking care of your employees leaving occupied Crimea. In appreciation, I&#39;ll eat a Big Mac this week-end.</p>&mdash; Radosław Sikorski (sikorskiradek) April 4, 2014