Chinese dissident Ai Weiwei asks Chinese authorities for his passport back
Comments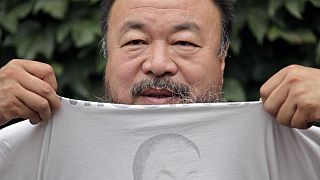 Chinese dissident-artist Ai Weiwei has released a video politely asking Chinese authorities to return his confiscated passport.
Without his passport, Ai cannot attend his biggest-ever one-man exhibition, called Evidence, in Germany.
The showcase is now open at the Martin-Gropius-Bau exhibition hall in Berlin. Ai's show features artifacts and installations that are either being displayed in Germany for the first time or have been designed specifically for the event.
The artist, best known for his work on Beijing's Bird Nest Olympic stadium and creating the Sunflower Seeds installation in London's Tate Modern, is openly critical of China's human rights records and autocratic Communist rule.
An avid dissident, he was arrested by Chinese authorities in 2011 and his studio was raided as part of a government crackdown on hundreds of political, social and human rights activists opposed to Communist Party rule.
Ai was detained for 81 days on phoney economic charges then released on bail. His passport however has remained in the government's hands since then.
China accused all the detainees of "inciting subversion of state power". Some were sentenced to time in prison, others were sentenced to "soft detention", and many have mysteriously disappeared.
Liu Xiabo, the 2010 Nobel Peace Prize Winner, also faced the same charges and was sentenced to 11 years in prison.
The arrest of high-profile dissidents such as Ai and Xiabo suggests the rather limited open space for freedom of expression and belief in Communist China. But with the powerful tool of social media, well-known activists, are now capable of pleading to the international community and asking for help.