Mouthwatering matches await after Champions League QF draw
Comments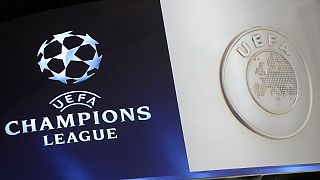 High-flying European champions Bayern Munich have been drawn against struggling Manchester United in the quarter finals of the Champions League. Chelsea will play against Paris Saint-Germain in the same half of the draw.
In an all-Spanish tie, FC Barcelona will face off against Atletico Madrid, with the winners of that going on to play either Real Madrid or Borussia Dortmund in the semi finals.
It is possible that Bayern Munich will have already sewn up their latest Bundesliga title by the time they host Manchester United on April 2. United on the other hand may have to win the Champions League to qualify for next season's tournament as it looks increasingly unlikely they will make the top four in the English Premier League.
Chelsea, seasoned performers in European football and the winners of last year's Europa League, face a stiff test against a PSG side that always threatens defences with Zlatan Ibrahimovic at the vanguard of the attack.
The top three of the Spanish league find themselves in the same half of the draw, raising the prospect of an all-Spanish semi-final. That is far from a foregone conclusion however as Real Madrid, currently La Liga leaders, must first get past last year's beaten finalists Borussia Dortmund. Barcelona meanwhile are up against a resurgent Atletico Madrid.
In the Europa League Juventus, who for many are favourites at this stage given the Serie A leaders' impressive season so far, will play French club Lyon. Benfica, one of two remaining Portuguese clubs in the tournament, were drawn against AZ Alkmaar of the Netherlands while Porto take on Sevilla. The other Spanish contenders for the Europa League, Valencia, are up against Swiss club FC Basel.
Champions League QF Matches on April 1 and 2; second leg April 8 and 9
Teams shown first to play first leg at home
FC Barcelona vs Atletico Madrid
Real Madrid vs Borussia Dortmund
Paris SG vs Chelsea
Manchester United vs Bayern Munich
Europa League QF draw
Matches to be played April 3 and 10
AZ Alkmaar vs Benfica
Lyon vs Juventus
FC Basel vs Valencia
FC Porto vs Sevilla