Watch: Crashing pick-up truck flies threw air just missing police officer
Comments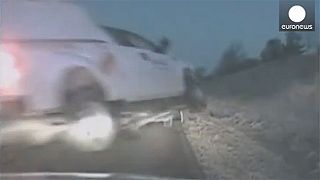 This is the dramatic moment a pick-up truck flew threw the air, narrowly missing a police officer on the side of a US motorway.
It was captured from a dashboard camera as the state trooper was investigating an earlier accident.
The pick-up truck flies between the police car and another vehicle, narrowly missing the officer. It hits the embankment before coming to a stop.