Watch: Cameras catch 'fireball' meteorite over Canada
Comments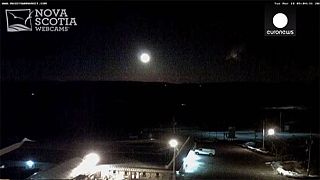 CCTV filmed from the car park of a fishing-bait buisiness in New Brunswick captured the moment a fireball briefly illuminates Canada's skies.
The fireball, believed to be a meteorite, could be seen from Nova Scotia and New Brunswick early on Tuesday (March 18) morning.
Eyewitnesses said they saw bright lights in the sky and a loud noise like thunder at around 5am local time.
An online webcam captured footage from above Masstown market and the Point Prim Lighthouse in Nova Scotia, where a bright object could be seen heading towards the ground.