Italian navy rescues 2,000 illegal migrants in two days
Comments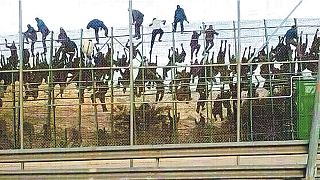 More than 2,000 illegal migrants sailing from North Africa have been saved off the southern coast of Sicily over the past two days, the Italian navy said on Wednesday.
According to the navy, a total of 2,128 migrants were rescued before disembarking on the island; 600 were picked up at sea on Monday while on their way to the port of Augusta.
On Tuesday about 500 African migrants stormed their way past the triple-layered border fences of the Spanish African enclave of Melilla, in what Spanish authorities called one of the largest such crossings in years.
Spain has two enclaves in Morocco: Melilla and Ceuta, which are both located on the northern tip of Morocco. Thousands of migrants from all over Africa camp on the Moroccan side of the enclaves' border every year waiting for an opportunity to scale the fence and enter European territory.
Regarded by many would-be migrants as Europe's back-door, Italy and Spain have been struggling with illegal immigration for decades.
But according to the latest data released from the European Union's border agency, Frontex, more than 20,000 migrants entered Europe illegally through Italy's Lampedusa and Sicily in the third quarter of 2013 alone.
Due to the current political instability in North Africa and the Middle East, the number of illegal migrants has sky-rocketed in recent years.
Main picture courtesy Diari de Tarragona