EU agrees sanctions on 21 Russians and Ukrainians
Comments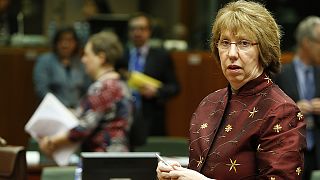 European Union foreign ministers agreed on Monday to impose sanctions, including travel bans and asset freezes, on 21 offiicals from Russia and Ukraine, Lithuania's foreign minister said on Monday.
After a three-hour in Brussels, the EU's 28 foreign ministers quickly reached agreement on the list of those to be sanctioned for their part in Russia's seizure of Crimea and Sunday's referendum to secede from Ukraine and join Russia.
"(The Foreign Affairs Council) just agreed on sanctions – travel restrictions & assets freeze against 21 official from Ukraine & Russia," Linan Linkevicius wrote in a message on Twitter.
Linkevicius added that more measures would follow this week, when EU leaders meet for a summit in Brussels. They are expected to expand the list to include more senior figures closer to Russian President Vladimir Putin.
#FAC just agreed on sanctions -travel restr & assets freeze against 21 official from Ukraine & Russia. More EC measures in few days...

— Linas Linkevicius (@LinkeviciusL) 17 Mars 2014