Fresh sanctions due as Russia's annexation of Crimea moves a step closer
Comments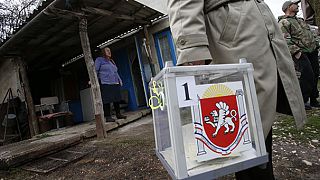 Russian state media said Crimeans voted overwhelmingly to break with Ukraine and join Russia on Sunday, as Kyiv accused Moscow of pouring forces into the peninsula and warned separatist leaders "the ground will burn under their feet".
RIA news agency said 93 percent backed annexation, citing an exit poll released as voting ended at 8 p.m. (1800 GMT). Another Russian agency said turnout was over 80 percent. When around 50% of votes were counted, the latest numbers pointed to 95,5% voters backing union with Russia, 3,5% asking for more autonomy and 1% of discarded ballots, according the Crimean Electoral Commission. The final results should be announced this Monday at 10h00, when the Crimean Council should also present a formal request to join Russia.
Caught in an East-West crisis reminiscent of the Cold War, Kyiv said Russia's build-up of forces in the Black Sea region was in "crude violation" of an international treaty, and announced plans to arm and train 20,000 members of a newly-created National Guard to defend the nation.
U.S. Secretary of State John Kerry told Moscow that Washington would not accept the outcome of the vote, which is likely to favour union with Russia for a region which has a Russian-speaking majority.
The White House also warned Moscow to expect sanctions while foreign ministers from the European Union, which has major trade ties with Russia, will decided on possible similar action in Brussels on Monday.