Amid lack of clarity over flight MH370, 'witch-doctors' offer their own answers
Comments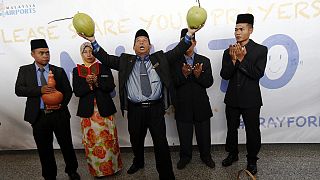 The uncertainty and confusion over the mysterious disappearance of Malaysian plane MH370, and the anxious wait for answers, are beginning to attract the most unorthodox of well-intentioned support.
One such 'helper' is Ibrahim Mat Zin, more commonly known as Raja Bomoh Sedunia Nujum VIP, who has made headlines after performing spiritual rituals at Kuala Lumpur International Airport (KLIA).
The witch-doctor, or bomoh, who even claimed he was invited by Malaysia's top leaders, used bamboos as binocular and looked into a fish trap hook to "locate" the missing plane on Sunday. He professed to his audience that the plane was lost on land inhabited by elves. He then returned to KLIA on Wednesday accompanied by other shamanist assistants who sat on a mat and pretended, symbolically, to be diving into the sea. One shamanist was seen waving two coconuts up and down to "break the barrier in the land of elves" and set free the aircraft, reported Free Malaysia Today.
Practitioners of shamanism claim they can reach a trance state of consciousness through a series of rituals, granting them access to the world of spirits and enabling them to channel transcendental energies into divination and healing practices.
Despite a growing state-sponsored Islamic proselytisation, as well as evangelisation by Christian missionaries that discourage animism in Malaysia, witch doctors, or bomohs, are still active and animistic practices are not outlawed by the government.
The appearance of the bomohs has generated fierce criticism from many netizens of the way the Malaysian authorities have been handling the crisis and for allowing mysticism to get involved at all; they say the void left by the lack of clear and official explanations has been filled by charlatans, who serve only to amplify the confusion.
The Malaysian government responded to the shaman's stunt by saying that it appreciates citizens' help as long as it does not contravene Islamic teaching.
Mainstream Islam forbids all forms of witchcraft.
"We understand that a lot of people are anxious and everyone is trying to lend a helping hand but we must also be careful," said Jamil Khir Baharom, minister in the Prime Minister's Department of Islamic Affairs, as quoted by the New Straits Times.
"It is not right to resort to Shaman and black magic because this can easily take us away from resorting to Allah's help in this matter," he added.
The Malaysian authorities are nonetheless still under fire for their unclear and conflicting statements regarding the missing plane.
Help or hindrance? Shaman offering support at KLIA