Co-pilot of missing Malaysian Airlines jet once hosted me in cockpit for entire flight, claims woman
Comments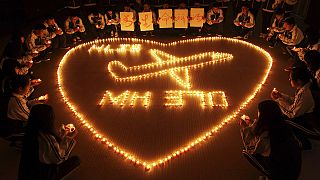 The co-pilot of the missing Malaysian Airlines aircraft once invited two women into a plane's cockpit for the entire flight, it's been claimed.
Jonti Roos, from South Africa, says Fariq Abdul Hamid entertained her and a friend while flying from Phuket to Kuala Lumpur in 2011.
"We were standing in line at the boarding gates with everybody else when the pilot and co-pilot walked past us, came back and asked us if we would like to sit with them in the cockpit during the flight, so obviously we said yes," she told Australian news programme A Current Affairs.
Roos said that even though both pilots were friendly and gave them a lot of attention, she felt 'they were very competent in what they were doing'. But both, she said, were smoking throughout the flight.
The blonde also said she did not want to imply that Hamid was to blame for anything that may have happened to the Malaysia Airlines flight.
Roos said she was shocked to see Hamid's name among the list of those on the missing plane and her first reaction was to call her friend who had been on the flight with.
Malaysia Airlines said in a statement: "We have not been able to confirm the validity of the pictures and videos of the alleged incident. However, we urge the media and general public to respect the privacy of the families of our colleagues and passengers. It has been a difficult time for them."
)