UK: France striker Nicolas Anelka fined €97,000 and banned over controversial 'quenelle' gesture
Comments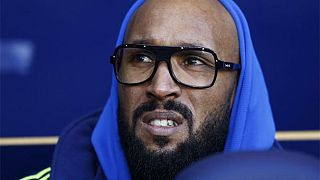 French striker Nicolas Anelka has been fined £80,000 (€97,000) and banned for five games over his controversial 'quenelle' goal celebration.
The Football Association charged the former Paris Saint-Germain forward with 'aggravated misconduct' after the alleged anti-Semitic gesture in December.
Anelka has said the gesture – which has been described as an inverted Nazi salute – was not racist, but instead a tribute to his French comedian friend Dieudonne M'Bala M'Bala who invented it.
The FA said in a statement: "An Independent Regulatory Commission has found an aggravated breach of FA Rule E3 against Nicolas Anelka proven and has issued a five-match suspension and a fine of 80,000 pounds, pending appeal."
The punishment is suspended until the outcome of any appeal or until the player informs the FA of his decision not to appeal.
The salute was made in the English Premier League on December 28, after West Brom striker Anelka scored in a 3-3 draw with West Ham United.