Watch: Sports car tops 270mph to spark world speed record claim
Comments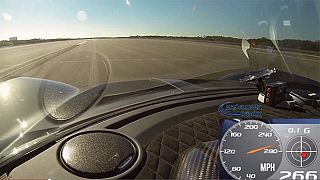 This is the adrenalin-fuelled moment a sports car topped an incredible 270.49 mph (435.31 km/h) – sparking claims it had smashed the world record.
The footage of the Hennessey Venom GT, an American sports car, was recorded at Kennedy Space Center's 3.2 mile (5.1 km) space shuttle landing runway.
But it will not be reportedly officially accepted by the Guinness World Records.
The Bugatti Veyron SuperSport, which was recorded hitting 269.86 mph (434.30 km), is still, paradoxically, the world's fastest production car.
To get official status the car most complete two runs, the Venom GT was only able to do one in Florida. The manufacturer must also have built a minimum of 30 such cars – Hennessey is only reportedly building 29 Venom GTs.
"I knew the car had it in it, but it's a thrill to officially validate the Venom GT's 270-mph speed," said Hennessey CEO Don Goldman. "Venturing anywhere above 200 mph—let alone 270—is not to be taken lightly, and we're elated to have accomplished our goal."