Sochi Winter Olympics skier gets witty Twitter support over risqué calendar
Comments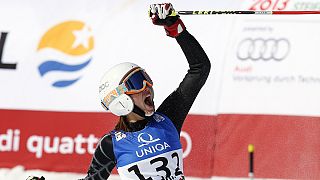 A skier competing at the Sochi Winter Olympics on Friday is at the centre of a storm over a risqué calendar.
Jackie Chamoun, who will compete for Lebanon in the women's giant slalom, posed for topless pictures and behind-the-scenes video three years ago for an Austrian ski calendar.
The video of the skier, 22, – which was more revealing than the photos – emerged this week, prompting calls for the Lebanese Olympic Committee to launch an investigation.
Twitter dresses down, stands up in defense of topless Sochi skiier #StripForJackiehttp://t.co/Le30unfcoapic.twitter.com/ApVj5aUJPg

— Steve Woods (@YouKnowSteve) February 15, 2014
But plenty of people have shown their support for her: a campaign called #StripForJackie saw social media flooded with naked torsos. Chamoun's followers stripped down and posted funny photos of themselves nearly-naked, with the caption 'I Am Not Naked', before stating their positions in life.
Chamoun's case was helped by her apology and plea for support on Facebook.
The outcry of the images was fuelled by Faisal Karami, Lebanon's youth and sports minister, who condemned the skier's behaviour as "harmful to Lebanon's reputation", according the country's National News Agency.
Karami's criticism, though, did not strike a chord with everyone:
In an editorial titled "What Reputation?" a local English language newspaper, The Daily Star, scorned the politician's statement, which came at a time when Lebanon is paralysed by political assassinations sparked by the civil war in neighbouring Syria.
"Since the beginning of 2014, there have been no fewer than five bombings… Is there a better definition of a failed state than ours?" stated the newspaper. "This woman, who should be a source of pride to the country, at a time when it needs all the national sentiment it can get, skiing as she is at the Winter Olympics, is being blamed for something she chose to do with her free will, while the everyday concerns of citizens are being wholly and fundamentally neglected."
I'd rather support nudes than get killed in a bombing thank you…#StripForJackiepic.twitter.com/x19HVOHWuk

— Pattie (@Charabati) 11 Février 2014
Supporting Jackie :s pic.twitter.com/UBgb5ZCIX3

— AssaadAllahAwkatakom (@AssaadMouawad93) 11 Février 2014
Al Nahar newspaper 1975 (not verified). Lebanon was a much less conservative country back then. #StripForJackiepic.twitter.com/0skgts9SXg

— Rani Haddad © (@4484) 13 Février 2014