Pussy Riot say they were whipped by militia at Sochi Winter Olympics
Comments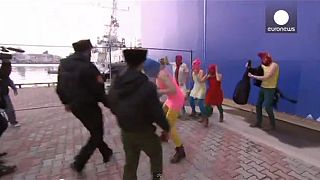 Controversial protest group Pussy Riot claim they were beaten with whips by Cossack militia patrolling the Sochi Winter Olympics.
Nadezhda Tolokonnikova and Maria Alyokhina – who rose to prominence after being jailed by Russian president Vladimir Putin over a church protest – said they were attacked as band members tried to perform a song.
"Under the banner Sochi 2014, to the sound of "Putin will teach us to love the homeland", Cossacks attacked Pussy Riot, beat us with whips and sprayed a lot of pepper gas at us," Tolokonnikova wrote on Twitter.
A still photograph showed a Cossack about to strike the women, dressed in their customary brightly coloured ski masks, short dresses and tights. Some of them were unmasked by the Cossacks.
Alyokhina tweeted photographs of blood dripping down the face of a supporter after the attack. Another showed red marks across Tolokonnikova's chest.
David Khakim, an activist who was briefly detained over a one-man protest in Sochi this week, said he had witnessed the attack.
"The Cossacks sprayed gas in my eyes. They started beating us with whips after which they started choking us in front of a police officer," he wrote on Twitter.
Cossack patrolmen, who have enjoyed a revival under Putin, are being used to enforce security around the Olympic Games.
Neither part of the police nor military, Cossacks, once the patrolmen of the Russian borderlands, are meant to maintain order and work with police to make arrests.