Gallery: The winning pics from the World Press Photo Contest 2014
Comments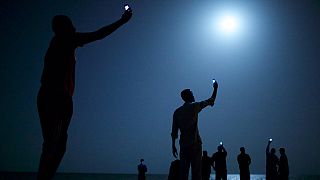 A haunting image of African migrants raising their mobiles to catch an inexpensive signal has been chosen as World Press Photo of the Year 2014.
The picture, captured by American photographer John Stanmeyer, is one of dozens of images awarded prizes in the contest.
A selection of these – which includes pictures that deal with domestic violence, the mall massacre in Nigeria and the death of Nelson Mandela – can be seen in the gallery below.
The winning image by Stanmeyer shows African migrants on the shore of Djibouti city at night, raising their phones in an attempt to capture an inexpensive signal from neighboring Somalia—a tenuous link to relatives abroad.
Djibouti is a common stop-off point for migrants in transit from such countries as Somalia, Ethiopia and Eritrea, seeking a better life in Europe and the Middle East.
Jillian Edelstein, one of the judges, said: "It's a photo that is connected to so many other stories—it opens up discussions about technology, globalization, migration, poverty, desperation, alienation, humanity. It's a very sophisticated, powerfully nuanced image. It is so subtly done, so poetic, yet instilled with meaning, conveying issues of great gravity and concern in the world today."
The judging was conducted at the World Press Photo office in Amsterdam. All entries were presented anonymously to the jury, who discussed their merits over a two-week period. The contest drew entries from professional press photographers, photojournalists and documentary photographers across the world. By the mid-January deadline, 98,671 images had been submitted by 5,754 photographers from 132 countries.