Fresh footage of moments around alleged slaughter of up to 65 dolphins in Japan
Comments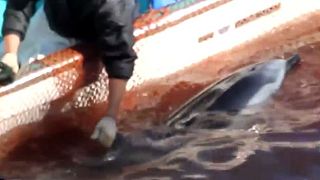 Fresh footage has emerged of the moments before and after the alleged slaughter of up to 65 dolphins in Japan.
The video, shot by activists Sea Shepherd Conservation Society (SSCS), shows dolphins bleeding and being wrestled by their alleged killers.
SSCS claims 20,000 dolphins, porpoises, and small whales are killed in Japan each year.
The Japanese government has defended the practice, saying it's part of the country's culture and traditions.
Yoshihide Suga, chief cabinet secretary, said: "I believe dolphin fishing is one of Japan's traditional fishing industries and is carried out appropriately in accordance to the law."
It comes as CNN published an article graphic descriptions of how the dolphins are allegedly killed.