Reding: freedom of movement 'not up for negotiation'
Comments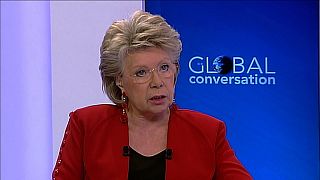 Europeans' right to freedom of movement is precious and "not up for negotiation".
European Commission Vice-President Viviane Reding issued the warning during a wide-ranging interview with euronews.
It comes after British Prime Minister David Cameron called for an overhaul of the right to freedom of movement, amid the lifting of restrictions on migrants from Romania and Bulgaria.
Reding also defended EU migrants, saying the majority move country to work. She added they also contribute more to social security than native citizens.
In her interview – broadcast on euronews' television channel and website – she spoke on a number of topics, including gender equality, Ukraine, data protection, US spying, climate change, immigration, Roma people and youth unemployment.
Google+ Hangout - Citizens' Dialogue with VP Viviane Reding