Bomb damages Budapest bank branch, no one hurt
Comments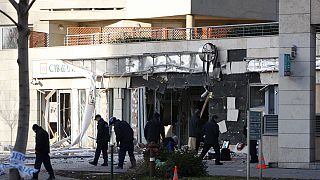 A bomb exploded at the Budapest branch of the Hungarian CIB Bank in the early hours of Monday morning, but police said no one was injured.
The device went off shortly after 4am CET, police said, ripping out a large part of the bank's wall.
They said they were looking for a motorcyclist who drove off from the scene, but gave no indication of any possible motive for the attack. A shopkeeper near the site told Hungarian state news agency MTI about reports a homeless person was told to move from the area prior to the blast.
CIB Bank is a unit of Italy's Banca Intesa. A CIB spokeswoman declined to comment.
There are also other banks nearby, including the next-door branch of Budapest Bank, a unit of GE Capital, which was also damaged.
Banks are generally unpopular in Hungary after encouraging hundreds of thousands of households to take out foreign currency mortgages that were relatively cheap before the 2008 financial crisis, but have become very expensive as the forint's value has fallen, reports Reuters.
The government has implemented various schemes to help indebted households and is planning a further measure that banks fear could cause them big losses.