Spanish monarchy hits hard times
Comments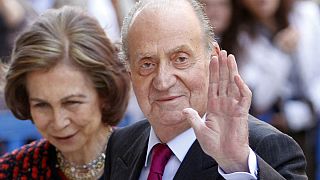 The new year in Spain is celebrated with the King offering traditional good wishes to the armed forces. This was the first official function Juan Carlos performed since his hip operation in November. He is approaching his 76th birthday this Sunday, and appeared tired, couldn't easily finish his speech. It was a tough start to his 2014.
The past year has been dismal for the Spanish crown. The King's public approval rating suffered; 62 percent of Spaniards said they wanted him to abdicate, and barely half of them even support the monarchy as an institution.
The summoning of the King's younger daughter, the Infanta Cristina, to answer in court to accusations of fraud and money-laundering the palace spokesman said drags out the ordeal still more painfully. She's the first direct member of this royal family to be a formal suspect.
This is the second time that investigating judge José Castro has called on her to face questioning. He tried last April but anti-corruption prosecutor Pedro Horrach successfully appealed to prevent it. He said there was insufficient evidence to link her to the corruption case in which her husband Inaki Urdangarin was embroiled. The former Olympic handball player is being investigated for alleged embezzlement of millions of euros in public funds handled through the non-profit Noos Institute which he ran with his associate Diego Torres.
The new court summons relates to Aizoon, a company which investigators suspect served as a front for laundering the embezzled funds.
Palma de Mallorca journalist Andreu Manresa has kept close watch on the proceedings since they began in 2010.
Manresa said: "The Infanta Cristina co-owns Aizoon with her husband. He personally moved money in and out of it, making him liable for three fiscal offence charges."
Judge Castro has spent nine months sifting through Cristina's financial affairs before again ordering the 48-year-old to appear, in compliance with legal procedure, like any other Spanish citizen. The court date for Princess Cristina Federica de Borbón y Grecia is 8 March.
Euronews reporter Javier Villagarcia takes a closer look at the situation facing the Spanish royal family:
"To understand better the repercussions of this latest royal scandal we go to Madrid to talk to Fernando Vallespin, a political analyst. Mr Vallespin, the decision of the judge to charge the princess implies that everyone is equal before the law, even the royal family. While at the same time the state prosecutors office tried its best to avoid indicting the Princess."
Fernando Vallespin: "Yes, I think that this shows that the law is the same for everybody. There is no doubt that the prosecutors would not have been so involved for an ordinary citizen.
We also have to understand that the prosecutor's office has to act differently, more cautiously, because of the prestige of the person involved in this case.
The judge himself has shown an astonishing autonomy in this situation.
I think it is important to have all the cards on the table for the sake of public opinion. The general public is very interested in this case, as is the royal family, which really wants and needs transparency at every stage of the case."
Javier Villagarcia: "The royal family has said it is going through an agonising period. How do you think all this is hurting the king? Is it grinding him down. His health is poor and there are the other scandals, the elephant hunting and his alleged infidelity?"
Fernando Vallespin:This is the biggest scandal for the royals for many reasons, mainly because it attacks the foundations that gives legitimacy to the institution and erodes the symbolism associated with the figure head and the idea he can do no wrong.
The royal family really want a final verdict and soon so they can turn the page. The image of the institution is being eroded bit by bit just like all other institutions in Spain right now."
Javier Villagarcia: "The future of the Spanish monarchy looks uncertain. In your opinion how can the royal family get out of this mess with dignity and without losing more prestige?"
Fernando Vallespin:"If we have a clear transparent verdict and we can see the decision of the judge contains no privilege that will show the public the royal family is the same under the law and that will partly compensate for all the damage. No doubt this situation is a result of all the scandals and what worries the general public is will the king be able to exercise his constitutional duties."
Javier Villagarcia:
"Do think the king will consider abdication?"
Fernando Vallespin: "I think it unlikely and personally I think it would be unwise for many reasons and the fundamental reason is the threat of Catalan independence. The constitution needs to be reformed and until this process is complete abdication would be unwise and that is if his health allows him to remain king."