Toronto mayor Rob Ford more popular since crack cocaine admission - poll
Comments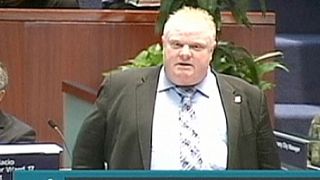 Embattled Toronto mayor Rob Ford has increased his popularity since admitting he smoked crack cocaine, a survey has revealed.
A poll of 1,049 voters showed 42% approve of the job Ford has been doing as mayor. That compares with 44% in a similar poll a fortnight ago and a hike on the 39% he was given in late October, before he made the admission.
This week Toronto city council voted to transfer Ford's budget and many of his powers to the deputy mayor.
Ford said he would fight the vote, calling it a "coup d'etat".
Local media reported in May they had seen footage apparently showing Ford smoking crack cocaine.
Ford initially denied the allegations. Then in November, after police said they were in possession of the drug video, he admitted smoking crack cocaine "in a drunken stupor".
A second video then emerged showing Ford making threats to kill an unknown person.
He then apologised for obscene comments made on live television while he was denying allegations he had offered oral sex to a female staff member.
While Ford's core supporters remain loyal, the poll also showed a strong majority of Torontonians believe he is not fit for office, with 60% saying he should resign. Meanwhile 69% said they believe the mayor has a substance abuse problem, which Ford denies.