Four dead and dozens trapped after Latvia supermarket roof collapse
Comments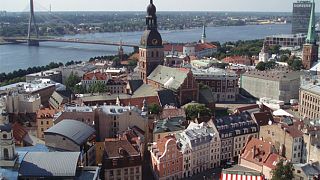 Four people died and dozens have been left trapped after a supermarket roof collapsed in Latvia, rescuers said.
It happened at a Maxima supermarket in the capital Riga on Thursday.
Riga's deputy mayor Andris Ameriks said on television that 50 people were trapped. But rescue services said this was only a rough estimate.
"Around 30 people are injured, there are four people dead, including one rescue service worker," rescue service spokeswoman Inga Vetere said. "It is very hard to tell because it is a shop and there are many people in the shop at that time of day.
The cause of the collapse is not known but local media said work was being carried out on the roof before it happened.
The Maxima supermarket, estimated at around 500 square meters (5,380 square feet) in size, was surrounded by ambulances and fire trucks as rescue workers tried to free those trapped inside the building in a Riga suburb.