UK: christmas song calls for bare breasts to be banished from popular tabloid
Comments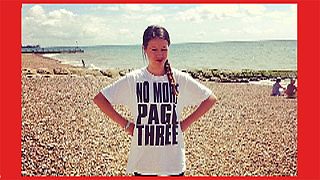 A campaign group in the UK has entered the annual race to be Christmas Number One in the music charts with a protest song demanding that naked breasts be removed from one of the country's most widely-read tabloids.
The song is part of a wider 'No More Page 3' campaign which hopes to banish the daily breasts from the third page of The Sun.
The Sun, which has a daily readership of more than two and a half million people, has featured daily images of topless glamour models since 1970. Critics argue that 'Page 3' objectifies and demeans women and that it should be treated as soft-core pornography.
So far, the campaign has chalked up some small victories: earlier this year the Irish version of The Suncovered up its Page 3 girls. In February 2013 The Sun's owner, media mogul Rubert Murdoch, tweeted his most public admission yet that Page 3 is up for debate.
Kazipooh</a> page three so last century! You maybe right, don&#39;t know but considering. Perhaps halfway house with glamorous fashionistas.</p>&mdash; Rupert Murdoch (rupertmurdoch) February 10, 2013
However it wasn't long until he took to Twitter again to defend the item: "Is anyone complaining about Page 3 pix [pictures] a reader. Enough of this elitist nonsense".
This 'if you don't like, it don't buy it' argument does not work for Lucy Holmes, founder of the No More Page 3 campaign. Earlier in the year Holmes wrote in The Guardian:
"We're hearing about 15-year-old girls who have been walking down the school corridor and their boobs are being graded out of 10 compared with the model on the page. They're not buying it. The mother who walks into a café and has to explain to her six-year-old daughter why there's a naked woman in the Sun? She's not buying it. The paper isn't bought and read in isolation, and we all have to live in a society that says 'shut up and get your tits out'."
Watch the No More Page 3 song, in collaboration with Campaign Chorus and NMP3HQ below. Visit the for the lyrics and more information about the campaign.