Bangladesh factories agree to pay rise but protests continue
Comments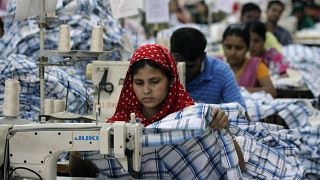 Police forces used tear gas and rubber bullets to break up new protests by workers in Bangladesh who are calling for a bigger increase in their salary despite garment factory owners agreeing to a 77 percent rise in the minimum wage.
The country's official wage board proposed the rise that brings the minimum wage to $68 a month after a string of fatal factory accidents this year thrust poor pay and conditions into the international spotlight. On Wednesday night factory owners agreed to the proposal at a meeting with Prime Minister Sheikh Hasina.
"We have agreed to the new wages after the prime minister assured us she would look into our problems," said Mohammad Atiqul Islam, President of the Bangladesh Garment Manufacturers' and Exporters' Association.
"In the greater interest of our garment sector, we agreed to it. But many small factories cannot afford the rise." He added that the new wage still has to be officially approved by the wage board before becoming effective next month.
Despite the agreement, workers demanding $100 a month blocked several major roads and attacked factories in the Ashulia industrial belt, on the outskirts of the capital, Dhaka.
Police used water cannons, fired rubber bullets and threw tear gas to disperse the stone-throwing demonstrators, witnesses said. More than 50 people, including police, were wounded during the clashes.
"We will continue protesting until we realize our demand," said one protester.
Violent demonstrations over the pay rise have forced the closure of more than 100 factories this week with some 200 shut on Thursday.
Bangladesh's garment industry supplies many Western brands such as Wal-Mart, JC Penney and H&M.
Read also
On Monday, a woman was killed and several people were injured in clashes between clothes factory workers and riot police in Cambodia.