Lessons to take home: girls' education in Pakistan
Comments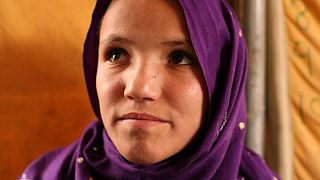 This edition of 'For Children in War' focuses on the challenges faced by girls in their quest for schooling in a displaced person's camp in Pakistan.
The story of 12-year-old Nargis is like that of so many in the country's tribal areas. She and her family fled fighting between the Taliban and government forces in her village. Now she faces another battle – getting basic schooling.
"When the Taliban arrived, war planes arrived, when the bombings started, the Taliban left," Nargis told Euronews reporter Monica Pinna. "When the battle began, we started praying. When the bombing began we started crying. Our homes were destroyed."
Nargis' father, Jahanzada, explained that the family had lost everything: "When the army started the offensive against the Taliban, the situation got worse. Our shop was destroyed, and everything was destroyed".
It was not the only hardship Nargis faced.
"The Taliban were against girls' education and when the girls tried to go to school they started firing in the air. This is why I didn't go to school. I don't know why the Taliban were against girls education," Nargis told Euronews.
Nargis' father takes another view, saying: "They have never fired, they have never stopped the girls from going They didn't want to stop education, they just wanted girls and teachers to wear the burqa".
But Sania Gul, Nargis' teacher in the camp, said families seeking an education for their children faced intimidation: "Parents were threatened by the Taliban. They didn't send their girls to school because otherwise it would have become a problem for them."
Euronews reporter Monica Pinna puts the struggle for learning into context: "Between 2008 and 2010 over four million people fled the tribal areas in north western Pakistan because of internal conflicts and the war against terrorism. Some of the displaced people came to Jalozai camp, near Peshawar. Here, thousands of girls have started going to school for the first time."
Nargis and her family come from Bajaur, one of the Federally Administered Tribal Areas of Pakistan (FATA). A Taliban stronghold, Baijur was said to have been be al-Qaeda's main operations hub in north eastern Afghanistan.
FATA are considered among the most conservative areas of the country, where radical groups have threatened and killed female leaders to discourage any demands for rights and equality. In these regions, the literacy rate for girls is a little more than five percent, compared to 34 percent for boys.
Deeba Shabnam, a UNICEF education officer from Peshawar, told Euronews: "Especially for girls, we were having a lot of problems because in their [parents'] view education is not very important for girls, because in their own areas early marriages are very common. Children are married from when they are 9, 10 or 12, and education has no importance for them".
Nargis attends one of Jalozai's 33 schools, along with another 9,000 children. Youngsters are estimated to number about 13,000 in the camp. The surprise is that nearly half of the desks are occupied by girls.
This result was achieved by UNICEF through community forums, parent-teacher councils and youth groups that meet regularly with one target: increasing awareness of education. The project has received the financial support of the EU Nobel Peace prize.
Teacher Sania Gul reflects on how strongly the desire for education is felt by some, saying: "I don't have my parents, I am an orphan, and I have a brother who is studying in the third year. I'm supporting him and the rest of family. It's very important they're educated so they can help their families".
Nargis is inspired by learning and hopes to help others one day. She told Euronews: "Education has to be available to all girls, so that they can become teachers and doctors. My dream is to become a teacher."
Deeba Shabnam of the United Nations Children's Fund (UNICEF) believes that dream could become a reality, saying: "They [the girls] are exposed to a new environment, where they have opportunities for schooling, they have health education also. As long as they live in this camp they should know about the importance of education and they should be aware that when they go back they should struggle for their children's education and send their children to school".
Meanwhile, Nargis's father insists they have not left their village for good. They are doing all they can to return and are encouraged by the fact that other families have been able to. Nargis's dream of becoming a teacher might spark a new way of thinking in areas desperate for peace.