Watershed for British obesity? Store brings in larger mannequins
Comments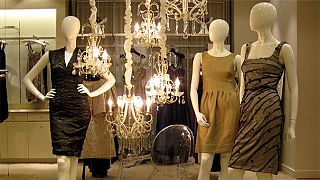 The statistics have been going off the scales for the last few years – but now it feels like British obesity has reached a watershed moment.
Debenhams, one of the country's biggest retailers, has decided to increase the size of its female mannequins.
It will introduce size 16 (Europe 44) female dummies in its Oxford Street store in London, before rolling them out to its 170 stores nationwide.
It said it was introducing the bigger mannequins to "better represent what real women look like".
In 2011 data agency Eurostat revealed there are more obese women in the UK than any other country in Europe. In England 24% of men and 26% of women are obese.
Debenhams director Ed Watson says: "Having worked on this project for three years, we hope that it will help people in some small way to feel comfortable about their bodies and, crucially, that other retailers will follow."
British equalities minister Jo Swinson said: "I hope more retailers will recognise that meeting customer demand for more diversity makes good business sense.
"Many customers want to see more realistic images in magazines, TV and on the high street, and having mannequins that reflect and celebrate our diverse society is one way of helping to achieve this."