Legalising cannabis: more tax without necessarily damaging public health
Comments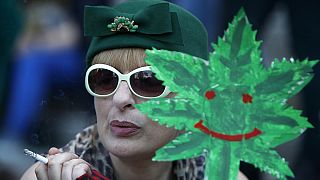 Decriminalising and taxing cannabis in the United Kingdom could raise tax revenue between £400 million (468m euros) and £900 million (1.05 billion euros) a year, while cutting the cost of policing, prosecuting and treating drug users by £300 million (351m euros) a year, research suggests.
Academics at the University of Essex who compiled the report said public debate on cannabis policy had been much too limited in scope and lacked hard evidence in favour of continued criminalisation. It said psycho-pharmacological research suggested that harm from cannabis use was related to the chemical composition of the drug, so that legalising and regulating its sale could control its potency.
Researchers believe that anti-drugs campaigners greatly exaggerate the idea that cannabis use could lead on to harder drugs.
"Licensing would remove many people from illicit cannabis supply and thus reduce harm….We estimate modest external net benefits from reform through the avoidance of scarring effects of criminal records in the labour market of roughly the same magnitude as the external cost to society of the impact on mental health," says the report.
Stephen Pudney, professor of economics at the University of Essex and the lead author of the study, said the report wanted to outline factors to consider and what change reforms could bring.
Amanda Fielding, director of the Beckley Foundation, which commissioned the report, said:
"In these times of economic crisis, it is essential to examine the possibilities of more cost-effective drug policy. Our present policies based on prohibition have proved to be a failure at every level. Users are not protected, it puts one of the biggest industries in the world in the hands of criminal cartels, it criminalises millions of users, casting a shadow over their future, and it creates violence and instability, particularly in producer and transit countries."