2013 WISE Prize awarded to Vicky Colbert
Comments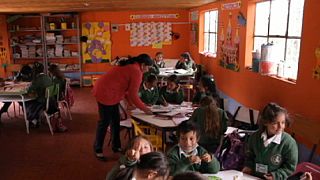 The 2013 WISE Prize, a kind of Nobel Prize for education, has been awarded to Vicky Colbert.
The Colombian sociologist and founder of the 'New School' received the €360,000 prize in Doha, Qatar, for her outstanding contribution to education.
According to Colbert this award highlights the role of education in society, because, in her words "development cannot be achieved without education."
Colbert continued: "This is thanks to the effort by the many teachers and colleagues who supported us in this process. We're feeling a great sense of satisfaction. I may have been the most visible, but I've had a great team behind me, so this is an award for all of them," she said.
Colbert launched the 'New School' with a small group of Quixotes in 1975. The model was tested on what she refers to as "invisible schools" – rural schools in Columbia. At that time drop-out rates, and teaching and learning through repetition were the main issues.
The 'New School' used a hands-on method to tackle these problems. Children of different ages learned – and still learn – in circles, and teachers work more like facilitators.
The results where so impressive that, in 1987, their methods were turned into national policy in Columbia, in a strategy designed to universalise basic primary education, particularly in rural areas of the country.
Nowadays the model is active in many other countries in Latin America, Vietnam and will soon be applied in Zambia.
The WISE Prize announcement was the news of the day at this summit, which is devoted to "reinventing education and adapting it to modern life." Three days of discussions involve more than a thousand professionals and NGOs around the world, in Doha.