Ecclestone accused of "corrupt bargain" in £62 mln London lawsuit
Comments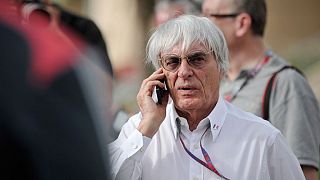 Formula One boss Bernie Ecclestone was accused of making a "corrupt bargain" that cost a German media firm millions in a London court on Tuesday, one of multiple legal challenges that threaten his control of the motor sport.
Constantin Medien is seeking more than 62 million pounds, 100 million dollars, in damages from Ecclestone, arguing that he and three other defendants deliberately undervalued Formula One when private equity fund CVC Capital Partners bought into the business in 2005.
A sports-focused media group, Constantin Medien had an interest in the sale of German bank BayernLB's stake in the motor sport to CVC, and Constantin says it lost out as a result of the undervaluation.
The legal fallout from the sale has already seen former BayernLB banker Gerhard Gribkowsky jailed for 8-1/2 years for corruption, and a German court is due to decide next year whether Ecclestone himself should stand trial on bribery charges.
In addition, the Prosecutor's Office in Geneva said on Tuesday it had received a denunciation from Constantin Medien concerning the disputed transaction and had in response launched a criminal investigation.
Ecclestone denies any wrongdoing, but if the various legal battles were to go against him, his control of a sport that he has helped turn into a global money-spinner could be in jeopardy.
The 83-year-old is scheduled to appear as a witness in the London High Court next week.
After months of pre-trial arguments, the civil trial began on Tuesday morning with Philip Marshall, lead counsel for Constantin Medien, outlining his client's case. Referring to the German indictment against Ecclestone, Marshall said it revealed that "a corrupt bargain was made between Mr Gribkowsky … and Mr Ecclestone".
The purpose of the bargain, Marshall said, was "to facilitate a sale of the Formula One Group to a purchaser chosen by Mr Ecclestone in return for remuneration (for Gribkowsky) and a position in Formula One going forward (for Ecclestone)".
Judge Guy Newey told Marshall he would not allow him to rely on the German indictment as evidence and Constantin Medien would have to prove its case for damages on the evidence before the London court.
The other three defendants are Ecclestone's former lawyer Stephen Mullins, the Ecclestone family's Bambino Holdings and Gribkowsky, who is mounting no formal legal defence in the case.
Marshall said that Ecclestone arranged with Gribkowsky for BayernLB to sell its 47 percent stake in Formula One to CVC at a knock-down price of $830 million because he stood to gain both financially and by keeping his position at the helm of the sport.
"These arrangements effectively dealt with a serious threat from BayernLB to Mr Ecclestone's control of the Formula One Group," he said.
Εcclestone does not deny making payments of $44 million to Gribkowsky but says he was the victim of extortion after the German banker threatened to make false claims over his tax affairs. Marshall said that the combined benefit to Ecclestone and Bambino Holdings of the sale was over $1 billion.
He said that based on what the Ecclestone family got out of the transaction, the total valuation of Formula One should have stood at between $3.09 and $3.34 billion, in stark contrast to a valuation just in excess of $2 billion used by CVC at the time.
"We see the transaction as being significantly weighted for the benefit of Mr Ecclestone and Bambino, and significantly to the detriment of BayernLB and those who had an interest (in the sale of its stake)," he told the court. After Marshall completes his opening submissions on Wednesday, lawyers for Ecclestone and the other defendants will give their responses. The trial is scheduled to last six weeks.
REUTERS