Saakashvili a page-turner for Georgia
Comments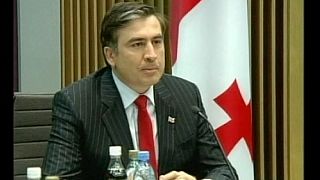 Saakashvili had already packed his things to move out of the presidential palace ahead of the election, since a third term in office was out of the question. What will the very pro-Western page-turner be remembered for?
He knew how to raise his voice, leading the Rose Revolution in 2003 that would turf out the regime of his former mentor, Edouard Chevardnadzé, who was accused of electoral fraud. Mikheil Saakashvili was then elected president with 96 percent of the vote in January 2004. He was 34, Europe's youngest head of state.
A lawyer trained in the US and France, he speaks English, French, Russian and Ukrainian. He steered a Western course for Georgia away from its former Soviet overlords, promoting bids to join NATO and the European Union.
He set out to modernise, to draw Georgia out of poverty and chronic corruption, through market-oriented reforms and attracting foreign investors. At the same time, he reformed the constitution as well, to give the presidency more power. Detractors called him arrogant, authoritarian – a prisoner of his own ego.
His popularity halved; he was reelected in 2008 with 53 percent of the vote – a far cry from the nine out of ten votes he got four years earlier.
In contrast to successfully overseeing the acquisition of broad autonomy by Georgia's Adjara region in the southwestern corner of Georgia, on the Black Sea, following the Rose Revolution, when he tried to retake control of the breakaway region of South Ossetia in northern Georgia, in 2008, it was a disaster. South Ossetia was pro-Russia, and Moscow sent out overwhelming reinforcements. It was a five-day war that Georgia lost. It hasn't had formal diplomatic relations with Russia since then. That was part of Saakashvili's legacy.
Another part was to restrain corruption, build infrastructure and boost the economy from the woeful low it was in after the USSR collapsed in 1991, and then a miserable civil war.
For his shortcomings, the country's prime minister has threatened to pursue Saakashvili in the courts. The outgoing president, however, appears unfazed.
Georgia's new president and head of government, as well as most members of the Cabinet can now be counted among the supporters of the "Georgian Dream" party and opponents of Mikhail Saakashvili.
To learn how the country might change, we're talking to Georgian political analyst Soso Tsiskarishvili in Tbilisi.
Euronews: – Does the victory of Mikhail Saakashvili's opponents, first in the parliamentary and now the presidential elections, mean that Georgians have said goodbye to romantic ideas of the "Rose Revolution" and become more politically pragmatic?
Soso Tsiskarishvili: – I want to say that it's the first time this has happened in the country's recent history. Previously, all our presidents received 85-90 percent of the vote, but none of them kept their posts until the end of the constitutional term. Now, someone has come to power, who is happy with 62 percent. But his victory and this peaceful transition are much more convincing because of his programme and the political support he has.
Euronews: – Not much known is known about the new president as a politician. Many call him merely a technician. The Prime Minister Ivanishvili says he'll soon leave his post to to a younger politician. But who will then be truly in charge of the country? Will decisions be made openly and publicly or within some sort of informal power centre?
Soso Tsiskarishvili: – It depends on the decision of the current prime minister Ivanishvili. He was the key figure during last years parliamentary elections. Even if he decides to leave the post of prime minister, he has such power that he would continue to play an informal but central role behind the scenes. This would create a problem if he refused to cooperate with his successor and those in charge. It might mean we'd have two bases of political influence in Georgia.
Euronews: – Soso Tsiskarishvili, from Tbilisi, Poltical analyst, thank you.