Saakashvili supporters in Ukraine free him from Kyiv police detention
Comments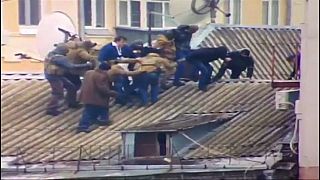 Ukrainian supporters of Mikheil Saakashvili have freed him from a police van after he was detained in Kyiv.
The former Georgian President was held by masked police officers on suspicion of assisting a criminal organisation. This sparked clashes between his followers and police who fired teargas into the crowd.
Addressing supporters earlier from the roof of a building in the Ukrainian capital, Saakashvili had accused Poroshenko of being a traitor and a thief. He was dragged away from the apartment roof while his supporters protested on the street.
As police manhandled him, he said the Ukrainian leader had colluded with oligarchs to block reforms and had profited from corruption.
Supporters of former Georgian president Mikheil Saakashvili grapple with police in Kyiv
Defiant protest
The demonstrators managed to stop the police van from leaving, crowding the vehicle and eventually freeing him by breaking its windows and back door.
They also set about building a barricade with tyres, wood and stones – a traditional form of protest in Kyiv and reminiscent of the "Maidan" uprising in 2013-14.
"I urge you to start a peaceful protest to remove Poroshenko. You should not be afraid," Saakashvili told the crowd of his supporters via a loudspeaker once he had been freed. He then led a procession of several hundred demonstrators towards parliament.
Saakashvili is suspected of receiving finance from a criminal group linked to former president Viktor Yanukovych which planned to overthrow the present government.
The police operation brought speculation that the Ukrainian authorities intended to deport him to Georgia where he faces criminal charges. The general prosecutor said there were no such plans, and he was simply wanted for questioning about a "particularly serious crime".
Saakashvili claims the charges against him in Georgia are politically motivated. He faces up to five years in jail if convicted.
Prolonged feud
The 49-year-old Saakashvili was president of the country for nearly 10 years after the 2003 Rose revolution before losing power. Critics accused him of monopolising power and exerting pressure on the judiciary, seeing little substance in his rhetoric against corruption.
As Georgian president, he was not afraid to criticise Russia but was blamed for miscalculating when tensions spilled over into a five-day war with his country's larger neighbour in 2008.
Mikheil Saakashvili reacts after being freed by supporters in Kyiv
Tuesday's events are the latest twist in a prolonged feud between Ukrainian authorities and Saakashvili, who was invited by President Petro Poroshenko to become a regional governor in Odessa after protests in 2014 ousted a pro-Russian president.
He was brought in because of reforms he carried out in Georgia. But he quickly fell out with his one-time ally, accusing the Ukrainian president of corruption. Poroshenko's office accuse Saakashvili of trying to deflect from his own shortcomings as an administrator.
The former Georgian leader had turned himself into a Ukrainian opposition figure and returned to the country after being stripped of his citizenship while in Poland.
The failed arrest attempt is an embarrassment for the Ukrainian authorities, and has given Saakashvili more publicity. Despite his hundreds of supporters, his level of support in Ukraine is put at only one or two percent of voters.