Passenger miraculously lands light aircraft after pilot falls ill at controls
Comments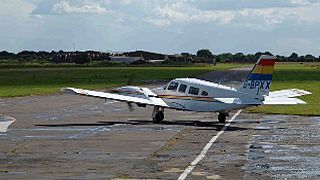 A passenger miraculously landed a light aircraft in the England after its pilot fell ill.
The drama unfolded as the plane was flying to Sandtoft Airfield in North Lincolnshire.
The passenger, after three or four attempts, made a successful emergency landing at Humberside Airport, under the guidance of two flying instructors and air traffic controllers, reported the BBC.
Humberside Police has since confirmed the pilot has died – but it is unclear whether this happened while the plane was airborne. No cause of death has been given but the police are not treating it as suspicious.
Roy Murray, one of the flying instructors who coached the passenger to land the place, said: "We had to get him to do two to three circuits. The last one was not very good so we told him to go round again and on the fourth one he managed it.
"He did a beautiful landing in my opinion.
"He was calm. He was answering the calls I made to him quite professionally.
"I would not be frightened to fly with him."
Humberside Police, in a statement, said: "The pilot of the light aircraft who became incapacitated while flying back to Sandtoft airfield during the evening of Tuesday 08 October resulting in an emergency landing at Humberside Airport was sadly pronounced dead last night.
"Police are not treating the death as suspicious and as such a file will be prepared for the coroner in order to establish what led to the death of the pilot by way of an inquest."