Students strip in protest over dress code at Kaposvar University in Hungary
Comments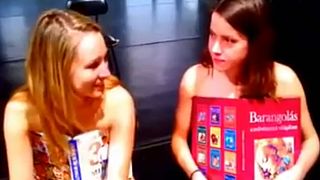 Students stripped off in class to protest at a university's strict new dress code.
Art undergraduates at Kaposvar University in southern Hungary took action after the clothes crackdown was imposed on October 1.
Under the new rules university rector Ferenc Szavai told women to avoid short skirts and thongs, while men have been prohibited from wearing shorts.
Strong perfume, over-use of make-up and "blatant use" of accessories is also banned.
There is expected to be a further demonstration against the new rules on October 7.
Kaposvar University says on its website it wants to foster a "vibrant, vivacious, active life on campus".