Dozens of migrants drown off Lampedusa in new boat tragedy
Comments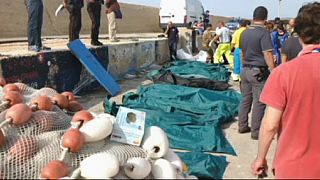 The bodies of dozens of African immigrants have been found after another boat sank near the Italian island of Lampedusa.
Many have been brought ashore. Rescuers say more than 150 have been picked up alive. But it is thought hundreds more are unaccounted for.
There were an estimated 500 passengers on the boat according to the UN High Commissioner for Refugees and the International Organisation for Migration. The UN said they were all believed to be Eritreans and their boat had sailed from Libya.
By late morning the mayor Giusi Nicolini said more than 80 bodies had been recovered and the victims included women and young children. She added that she thought the boat had caught fire after distress signals were lit.
A fishing boat raised the first alarm and started picking up people before coastguard vessels arrived. Tourist boats also responded to the migrants' cries for help.
The authorities said a second boat landed overnight, bringing hundreds more migrants apparently from Syria.
This comes just four days after 13 migrants drowned when their boat foundered off eastern Sicily.
This year more than 22,000 have disembarked on southern Italian coasts, nearly three times more than during the whole of 2012.
Italy's Transport Minister Maurizio Lupi said more needed to be done to combat people traffickers who coordinated the transport of migrants in crowded and unsafe vessels.
"It is a task which we have to take on and which the international community and the European community have to take on as well," Lupi said in a statement.