Brazil President calls off state visit to U.S. over spying
Comments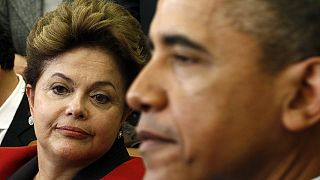 Brazilian President Dilma Rousseff has called off plans for a state visit to Washington in October because of revelations that the United States spied on her personal communications and those of other Brazilians.
Rousseff's decision, which came despite a 20-minute telephone call from President Barack Obama on Monday night in an attempt to salvage the trip, is a big blow to relations between the two biggest economies in the Americas.
Both the White House and Rousseff's office officially billed the decision as a postponement, and said a state visit could take place at an unspecified later date. However, two officials with knowledge of Rousseff's decision told Reuters that such a visit was unlikely to happen anytime soon.
Ties between Brazil and the United States had been improving steadily since Rousseff took office in 2011 but were upset by revelations that the U.S. National Security Agency snooped on emails, text messages and calls between the president and her aides. The spying revelations came from documents leaked by former NSA contractor Edward Snowden.
U.S. officials said the
NSA
surveillance was aimed at tracking suspected terrorist activity and did not pry into personal communications but Rousseff was not convinced. The trip was expected to be a platform for deals on oil exploration and biofuels technology, and Brazil's potential purchase of fighter jets from Chicago-based Boeing Co. The defense contract worth more than $4 billion that Boeing is seeking for the sale of 36 F-18 fighter jets to the Brazilian Air Force could be the main victim of the spying affair.
Brazilian officials have said Brazil cannot buy such strategic aircraft from a country it cannot trust.
The spying revelations sparked a political uproar in Brazil that Rousseff could not ignore. A senior government official told Reuters that Rousseff's top advisers, including her mentor and predecessor as president, Luiz Inacio Lula da Silva, encouraged her to scrap the state visit.
REUTERS