François Hollande says Britain's withdrawal will not hit France's Syria plans
Comments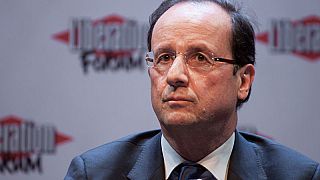 France still wants to push ahead with military action in Syria – despite Britain's decision to withdraw from a potential attack.
President François Hollande said France's will to act remains after the UK's parliament rejected a motion to intervene
The UK had been expected to join Washington in possible military strikes in response to allegations the Syrian government used chemical weapons against civilians.
Hollande told the daily Le Monde that he supported taking "firm" punitive action over an attack that he said had caused "irreparable" harm to the Syrian people. He said he would work closely with France's allies.
Asked if France could take action without Britain, Hollande replied: "Yes. Each country is sovereign to participate or not in an operation. That is valid for Britain as it is for France."
America says it will decide on its response based on US interests and will continue to consult with the British government in the wake of Thursday's vote.
UN weapons inspectors are continuing to investigate the chemical weapons claims.They are due to present their findings to Secretary General Ban Ki-moon on Saturday.
The Syrian regime denies that it has launched a chemical attack. It is blaming rebels, claiming that they are trying to frame the government.