Curfews and a state of emergency in Egypt as Cairo becomes a "war zone"
Comments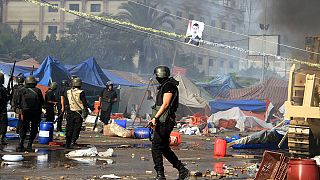 At least 95 people have been killed in Cairo in violence triggered when security forces began clearing two protest camps set up by supporters of ousted President Mohamed Mursi. The chaos prompted Egyptian authorities to impose a state of emergency that they say will remain in place for at least one month. There will also be a curfew between the hours of 19:00 and 06:00 in several provinces including the cities of Cairo, Alexandria and Suez.
Members of the Muslim Brotherhood group, Egypt's pro-Mursi faction, have talked of a "massacre" on the streets. They claim hundreds of people have been killed, with different figures being quoted by different sources. Some estimates for the number of dead and injured run into the thousands, but none has been confirmed.
The Egyptian Health Ministry has said that 95 people across the country lost their lives in Wednesday's unrest, with both members of the security forces and the public among the dead. It added that 874 people had been wounded.
One nurse in Cairo was quoted by Reuters as saying she had counted 60 dead bodies in her hospital alone and that she expected the death toll to rise further. A journalist working for the AFP news agency has reported that 124 Mursi supporters were killed in Cairo.
all sit-in entrances hv been breached. bodies r still being carried 2 corners, beyond any medical treatment. death toll est. now over 350 !!

— Gehad El-Haddad (@gelhaddad) August 14, 2013
Euronews' correspondent Mohammed Shaikhibrahim described the scene in Rabaa al-Adawiya square as a "war zone":
"It was very difficult for us to head towards the square because of intense gunfire. We couldn't identify where it came from but there is certainly firing from both sides between the police and the people in Rabaa al-Adawiya square. There are also several fires in several buildings around the square because of the gunfire," he said.
Several journalists were among the victims of the violence; a 61-year-old cameraman for UK channel Sky News was shot and killed, as was a reporter for the Emirati newspaper Xpress.
The police operation to clear the camps at Nahda Square and Rabaa al-Adawiya began at around 7:00 am local time. According to the Interior Ministry, security forces used tear gas rather than live ammunition as part of what it called "necessary measures" to disperse the protesters. It added that a safe exit path had been established for most demonstrators, but that "those wanted by the prosecution" were being stopped and held.
Egyptian security forces arrested senior Muslim Brotherhood politician Mohamed El-Beltagi on Wednesday, security officials said.
He was arrested near the Rabaa al-Adawiya protest camp in Cairo after security forces raided the area, the sources said.
Earlier, several Muslim Brotherhood leaders were reported to have been arrested, although no names were given. The Ministry insisted the intention was "not to shed any Egyptian blood".
There have also been reports that Muslim Brotherhood supporters set fire to Coptic Christian churches in Sohag, south of Cairo. Egyptian Copts, who make up between 6% and 10% of the country's population, have warned that Mursi supporters are targeting them in revenge for supporting the military-led removal of the president on July 3.
Outside of Cairo, clashes were also reported in the cities of Minya, Alexandria, Suez and Assiut.
The protest camps were set up after the democratically-elected President Mursi was removed from power by the army. In the weeks that followed, at least 250 people were killed in violence between police and Islamists and secularists from Egypt's pro- and anti-Mursi factions.

View Egypt – Cairo protests cleared in a larger map
Reacting to Wednesday's events, the EU has urged restraint. Michael Mann, a spokesman for EU foreign policy chief Catherine Ashton said: "The reports of deaths and injuries are extremely worrying. We reiterate that violence won't lead to any solution and we urge the Egyptian authorities to proceed with utmost restraint."
Turkish Prime Minister Tayyip Erdogan on Wednesday called on the UN Security Council and Arab League to take immediate steps to stop a "massacre" in Egypt, saying international silence had paved the way for the Egyptian authorities' violent crackdown.
Tweets
Picture of burned Sohag church. #Egyptpic.twitter.com/LvkaRc9U9j

— Nervana Mahmoud (@Nervana_1) August 14, 2013
Just came to my office, and here's the view from my window.. #Rabaapic.twitter.com/s0f0bX5I0L

— Hany Rasmy (@hany2m) August 14, 2013
Videos
Credit: YouTube/Sharif Kouddous via Storyful

Credit: YouTube/Sharif Kouddous via Storyful