Bloody force used by Egyptian army to clear Mursi supporters protest camps
Comments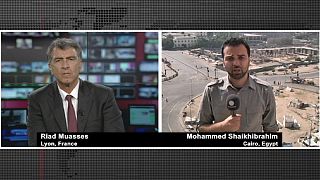 After days of many people expecting it, finally the security forces moved in this morning at dawn to clear away former president Mohammed Mursi's supporters from their protest sites, swiftly producing bloodshed.
The government, backed by the army, accuses the demonstrators of being terrorists. The assault comes after a month and a half of confrontation between the army and the Muslim Brotherhood.
On 3 July in Tahrir Square, hundreds of thousands of Egyptians celebrate the announcement that the military is removing the Islamist president. He's been in power for only a year. His opponents say he has only tried to strengthen his own political position, and has ignored the economy in crisis.
General Abdel Fattah al-Sissi, army chief and Minister of Defence – appointed by Mursi himself – becomes the country's new strongman. An interim government promises to hold elections early next year, insisting that the Muslim Brotherhood can participate in the transition.
But the Brotherhood refuses any dialogue with the authorities it considers illegitimate. Tension with Mursi supporters climbs steadily. On 8 July, the army attacks a pro-Mursi rally in Cairo, causing 57 deaths and wounding 480 people. The military says this is a counterattack against what it describes as terrorists moving in on the Republican Guards headquarters.
In the weeks after Mursi was removed, more than 300 people were killed in violence around the country – not all of them members of the Muslim brotherhood.
Mursi supporters had prepared for a bloody confrontation. Our Cairo correspondent, Mohammed Shaikhibrahim, has been around Rabaa al-Adawiya Square for several days. He watched the security forces actions from within the site itself.
The head of our Arabic language service spoke with him by satellite link.
Riad Muasses, euronews: "You've just left the square, Mohammed: how would describe the atmosphere?"
Mohammed Shaikhibrahim, euronews: "The Egyptian forces order are mopping up, clearing the area. We're still hearing firing from both sides, between Muslim Brotherhood members and the forces of order. Real bullets are being used. Witnesses are saying that the first shots came from the square itself, so from the Muslim Brotherhood, and that the forces of order were obliged to retaliate. The result is a high number of dead and wounded."
Muasses: "Some sources suggest that two daughters of Islamist leaders Al Chater and Beltagui were killed in these exchanges; can you confirm that?"
Shaikhibrahim: "Yes, yes, the latest we've heard from here on the ground – that was before I got here – is that the deaths of both Islamist leaders Al Chater's and Beltagui's daughters have been confirmed."
Muasses: "We've also heard here that Muslim Brotherhood members leaving two locations are gathering in other places, such as in Mohammed Mahmoud street; is that true?"
Shaikhibrahim: "The Muslim Brotherhood members who were dispersed by the forces of order from Al Nahda Square made their way to Rabaa al-Adawiya Square to reinforce their colleagues here. But their way was barred."
Muasses: "We also heard that the army was going to reimpose the state of emergency and curfew."
Shaikhibrahim: "That's right, political analysts here in Cairo and security experts say that the Egyptian army is taking those measures in the capital, to calm things down, to restore security and to end the gatherings and flying demonstrations. That's in reaction to the actions of the Islamists in Rabaa al-Adawiya Square and Al Nahda Square."
Muasses: "One last question, Mohammed: do you know what's going to happen now between the Islamists and the forces of order?"
Shaikhibrahim: "Frankly Riad, when we crossed the front lines at Rabaa al-Adawiya Square, we saw how determined the Muslim Brotherhood members were. When we asked them, they confirmed they intend to go on till the end, and that they are ready to die if they have to. They don't want to leave under any circumstances, and they've threatened to strike back even more strongly against the forces of order here in Cairo. So, we're looking at things getting more intense and not more peaceful in the hours that are coming."